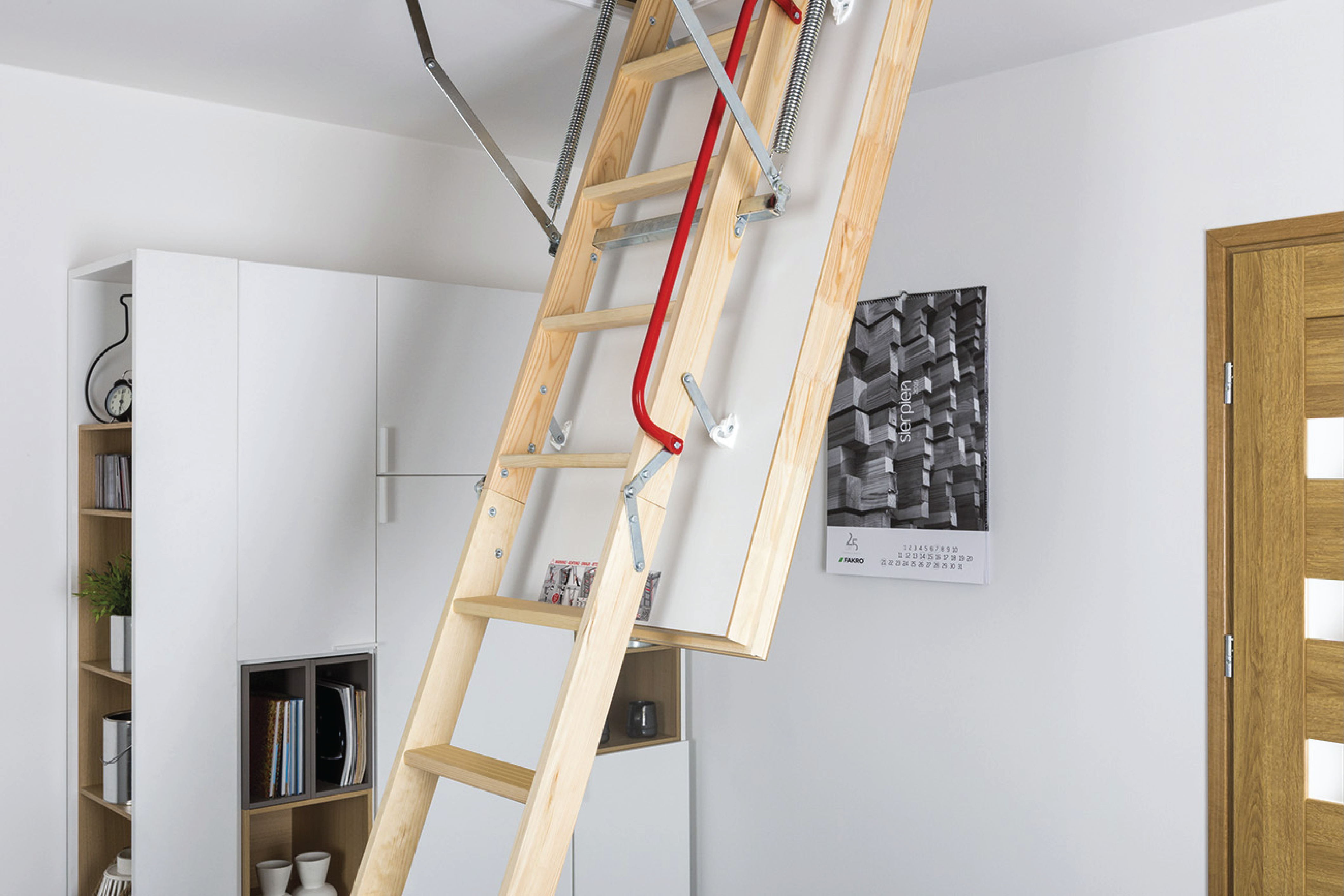 Welcome to VS Roofing, your trusted partner for professional Fakro attic ladder installation in Stillorgan, Dublin. Specializing in the latest Fakro loft ladders, we bring unparalleled expertise and precision to every project, ensuring your home benefits from the finest attic access solutions.
AKRO loft ladders are synonymous with safety, durability, and innovative design. Our range, including the popular fakro insulated wooden attic ladder and wooden folding highly insulated loft ladders, offers the perfect blend of functionality and aesthetic appeal, making them a top choice for Dublin homeowners.
LTK_Energy with 60mm Insulation:
Elevate your home's energy efficiency with the LTK_Energy ladder. This model boasts 60mm insulation, ensuring excellent airtightness, ideal for energy retrofit and enhancement of existing Irish homes.

LWT Passive House with 74mm Insulation:
The LWT Passive House model is our premium offering, featuring a robust 74mm insulation. Designed for the highest energy-saving standards, it's perfect for both new constructions and energy upgrades in Ireland.
Why Choose VS Roofing Services?
Custom Solutions for Every Home: At VS Roofing, we understand that every home and homeowner is unique. That's why we offer customized attic ladder solutions, including options for individuals with low mobility. Our range of accessories ensures that your Fakro ladder is perfectly tailored to your needs and lifestyle.
Our Hassle-Free Installation Process: Our team of experts will guide you through a seamless installation process. From initial consultation to final touches, we ensure a hassle-free experience, prioritizing your convenience and satisfaction.
Enhancing Your Home's Energy Efficiency: Fakro attic ladders are more than just access solutions; they are a step towards a more energy-efficient home. Ideal for the Irish climate, our ladders help maintain your home's thermal efficiency, contributing to energy savings and a more sustainable living environment.
Ready to transform your attic access? Contact us today for a consultation or quote. Our team is ready to assist you with expert advice and premium service.
Choosing VS Roofing for your Fakro attic ladder installation means opting for quality, reliability, and exceptional customer service. Join the ranks of our satisfied Dublin clients and experience the best in home attic solutions.
Keywords: Fakro Attic Ladder Installation in Dublin, VS Roofing, FAKRO loft ladders, fakro insulated wooden attic ladder, wooden folding highly insulated loft ladders, LTK_Energy with 60mm insulation, LWT Passive House with 74mm insulation, energy retrofit in Irish homes, energy upgrades, low mobility, attic access solutions, Dublin homeowners, energy efficiency, sustainable living environment, attic ladder solutions.